Current situation as of 05.31.21
The progress of the project as of May 2021 is 61.87% compared to the 62.71% programmed, with the Engineering, Procurement and Construction of the project as the main activities.
Engineering (May-2021)
In March 2021, 100% of the Detailed Engineering of the NTI Project was completed by the supplier CESEL S.A. with an engineering file of 1305 documents and a virtual construction model (BIM) as seen in the image.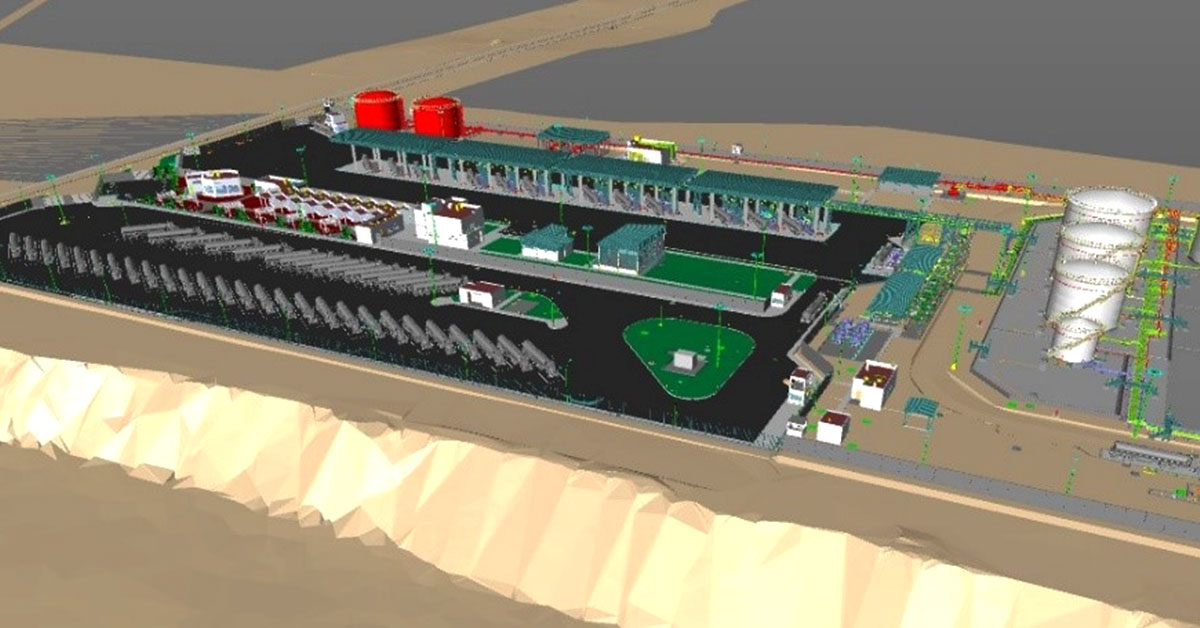 Procurement
During the years 2020 and 2021, PETROPERÚ has contracted six suppliers for the execution of the procurement, for the completion of the New Ilo Terminal Project, having the following progress:
| Contracting and execution of PETROPERÚ procurement | Equipment | % progress programmed | % progress real |
| --- | --- | --- | --- |
| SIDSA | Carbon Steel and HDPE Pipes | 100% | 100% |
| JSF OIL & WATER | Aluminum Dome Ceilings and Floating Screens | 100% | 75.0% |
| TEIGA TMI S.L. | Fuel dispatch skids | 100% | 85.0% |
| IBERFLUID INSTRUMENTS S.A. | Additive skids | 95% | 80.0% |
| FIMA S.A. | ASTM A36 metal plates for storage tanks | 73% | 72.0% |
| HONEYWELL S.A. | Automation of the New Terminal Ilo | 50% | 42.0% |
| VARIOS (LIQUIDACION FIHI) | Minor equipments | 100% | 100.0% |
The completion of this procurement of the previous table will allow to have approximately 60% of the total procurement of the project, leaving the new contractor to purchase the rest.
Construction
There is a physical progress of 27%, as a result of the resolved EPC Contract, which has undergone a review and integration process through complementary detailed engineering.
The new contracting process (Technical Conditions for contracting the "Procurement and Construction Service of New Ilo Terminal") is intended to validate the existing infrastructure and conclude the construction process.
Descripción
The project consists of the construction, installation and start-up of a New Supply Terminal in Ilo, to meet the demand for liquid fuels destined for the area of influence. The scope of the project is the reception, storage, transfers and dispatch of the following fuels: Diesel B5, Diesel 2E, Gasohol 84, Gasohol 90 and Gasohol 95.
Reception: multi-buoy berth for unloading made up of 3 submarine lines (diesel, gasoline and ethanol), to market white products. The reception by ships to the multi-buoy berth will be designed so that ships of up to 60,000 DWT can operate.
Storage: in its first stage, the New Ilo Terminal will have a storage capacity of 293 MBls of liquid hydrocarbons (7 tanks), to later expand its storage capacity to 1050 MBls (18 tanks).
Dispatch to tanker trucks: it will initially have 16 loading arms (initial stage) to later expand to 19 (second expansion). These bottom loading arms will serve tanker trucks up to 11,000 gallons. The system also includes online additives.
Other facilities:
Product transfer system from the storage tanks to the sales area will be made up of centrifugal-type electric pumps with an explosion-proof motor.
Instrumentation, monitoring and control, with state-of-the-art technology for the reception, storage and dispatch of fuels, firefighting systems, effluent and waste system, surveillance system, terminal dispatch, billing, among others.
Firefighting system consisting of vertical steel tanks with aluminum dome for water and bladder tanks for foam; distribution network, valves, accessories and foam generation chambers.
Industrial drainage system, freshwater system, electrical facilities (electrical substation connected to the public network, diesel generator set, lightning rod).
Plant area is delimited and protected by a wall of noble material along its perimeter, interior tracks for circulation and parking areas paved with asphalt.
Roofed areas for fire pump house, dispatch pump station, power room and warehouses. Buildings for administrative offices, bank office, sales offices, laboratory, dining room, sentry boxes and watchtowers.